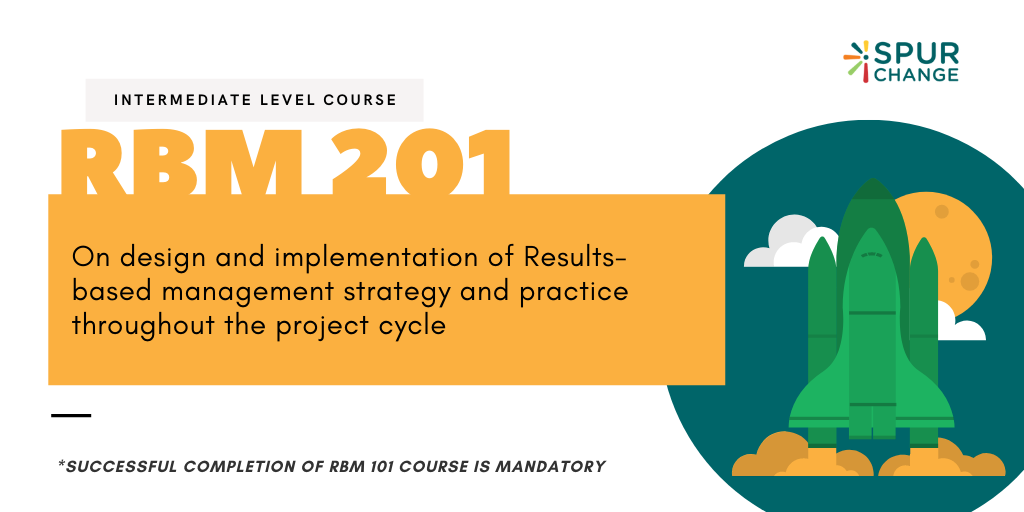 About the Course
Strengthen your capacities in Results-Based Management!
RBM 201 contributes to a better understanding of RBM through application of the concepts learned during RBM 101 Practising Results-Based Management: An Introductory Course.
Originally offered in partnership with each provincial and regional councils for international cooperation, between October and December 2021, Spur Change is now making the course materials available to Canadian SMOs interested in Results-Based Management.
The design of the course lends itself to a workshop format with the exercises focused on working through how best to apply RBM tools. While it is possible to work through the content individually, the experience will not be as enriching as with a group. For this reason, completing the course outside of a Spur Change workshop will not grant a certificate (in the same way as RBM 101).
What will You Learn?
The main objectives of these training materials are:
To equip Canadian SMOs with the knowledge and skills to apply Results-based management (RBM) principles, standards, tools, processes and best practices in the context of Canadian SMOs
To allow participants to apply their learning, and deepen their skills and understanding of RBM
To reinforce participants capacities to integrate gender sensitive, responsive, and transformative approaches
Please note, the course materials provided are for personal use only. Distribution or reproduction of any materials is strictly prohibited.
About the Training Developers


Baastel is a Canadian-owned consulting firm with global presence and three decades of experience across a broad range of sectors and services.
Committed to just and sustainable development for all, we support decision-makers and stakeholders from grassroots to government, providing knowledge, skills, systems, and tools to enhance their impact.
From strategic planning to evaluation, and gender analysis to GIS, our global, multilingual, and multidisciplinary network of staff, partners, associates, and affiliates allows us to understand and respond to each client's distinctive needs. Learn more about us on our Website.