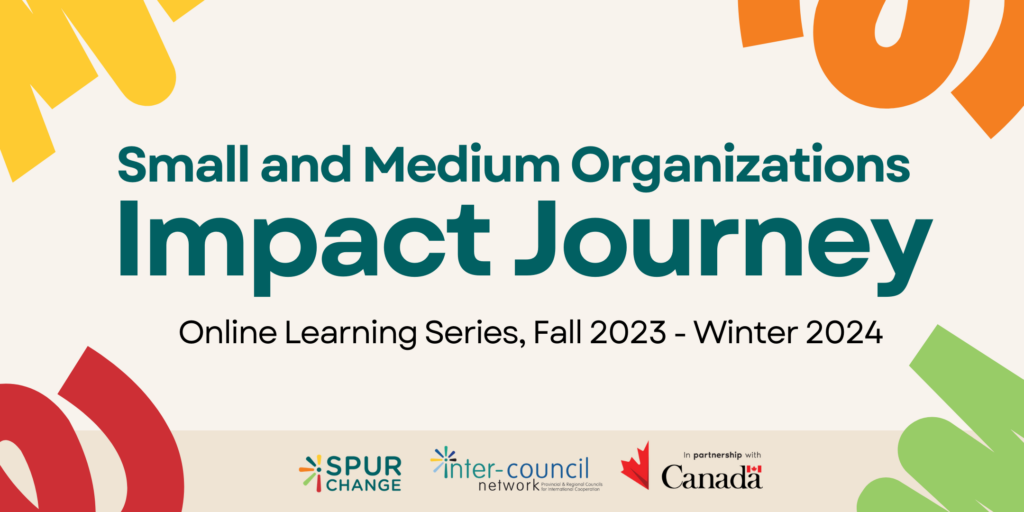 Series Overview
Two key pilot-programs of Global Affairs Canada's Small and Medium Organizations (SMO) for impact and innovation initiative are coming to an end, including the Spur Change program and the Fund for Innovation and Transformation (FIT).
To celebrate our successes and share our learnings, Spur Change is launching an online learning series that will focus on the impact stories of SMOs. The series will also share the impact of the SMO initiative as a whole on the international cooperation sector here at home and around the world. Over the next few months, Spur Change will invite SMOs supported through all three windows of the SMOs for impact and innovation initiative (the Development Impact Window (DIW), FIT, and Spur Change) to share their impact journey.
We'll learn directly from the SMOs themselves. What have been some achievements that came from engaging with the SMO initiatives? How have these impacted local partners and their communities? Have organizational practices changed? Have they made any meaningful progress towards localisation or gender equity in their work? Did they scale up an innovation, program, or new practice?
This new series will highlight the work that SMOs have accomplished over the past five years with the support of the SMOs for impact and innovation initiative. The series will be as diverse as SMOs themselves, focused on a wide range of topics including localization, organizational scaling and growth, collaboration, gender equity, community engagement in Canada and abroad, and more.
This is an opportunity to convene the entire sector for international cooperation and to celebrate and recognize the unique value and contribution of SMO's work in Canada and abroad.
---
Keep an eye on our newsletter (subscribe here) to stay up to date on the series. If you and your organization are interested in participating as speakers, please reach out to Andréanne (andreanne.martel@acgc.ca). Let him know how you were engaged with one or more of the SMO initiatives and what impact you hope to highlight.