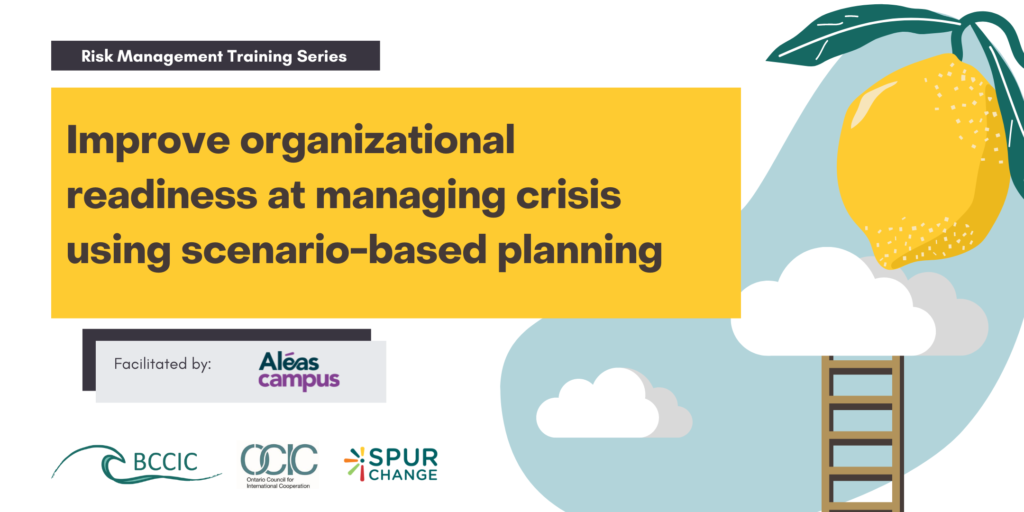 About the Course
Improve your organizational readiness!
The global crisis due to the coronavirus has highlighted the importance for small and medium-sized organizations (SMO) to adopt risk management strategies. While the pandemic has been with us for a while, it has remained a constant trigger. As such, SMOs must still reconcile the impact it has had on their programming and must be better prepared to face upcoming crises by managing risks and developing contingency plans.
It is with this in mind that Spur Change, with our partners BCCIC and OCIC, sought Aléas to deliver this training in order to better equip Canadian SMOs in the international cooperation and development sector for what lies ahead. This training focuses on travel-risk and equips you with risk management strategies and tools. Throughout the recordings and materials, you will be introduced to scenario-based planning to help identify potential crises that may arise as well as learn how to develop contingency plans to further build your organization's resilience.
Originally offered as a bilingual training in Spring 2021, these sessions were held and slightly updated for organizations in BC and Ontario. A greater focus was provided on travel risks through these sessions. While these sessions are only available in English, find the previous bilingual training by following the link below.
What will You Learn?
Through this training, you will be guided on how to:
Draft an overview of your organization's practices related to travel crisis management
Identify the priorities to address and manage situations effectively.
Improve your organizational capacities to:

Identify, analyze and implement travel risks with appropriate mitigation measures,

Develop diligent partnerships,

Make informed decisions based on your organization's risk threshold,
Understand scenario-based planning and use it to develop contingency plans.

Improve risk management practices keeping personnel safe, secure, and healthy when abroad.
Please note, the course materials provided are for personal use only. Distribution or reproduction of any materials is strictly prohibited.
About the Training Developers

Aléas supports organizations in developing a safety plan for international activities that protects their travelers. Their risk management products and services help meet Canada's Criminal Code Duty of Care requirements. The organizational skills acquired through their expertise enable organizations to send their travelers abroad with confidence and ensure their health while travelling.